SHIRT DESIGNS
TAHOE JUNIOR FREERIDE SERIES
The Tahoe Junior Freeride Series Coordinator reached out in December 2014 with the request that I design the annual shirt for the 2014-15 ski-season. After spending a little time discussing color scheme and reviewing shirts from the last few years, we settled on the following design. The light blue text pops against the dark background, but the distressed features on the front and back give the design an edgy feel, appropriate for freestyle skiing culture.
DAVIS DANCE MARATHON
In late 2013, I was contacted and asked to design a t-shirt for Davis Dance Marathon and their February 22nd, 2014 'Dancing Through the Decades' event. The Davis Dance Marathon club is a philanthropic organization that raises funds for the Children's Miracle Network and the UC Davis Children's Hospital. They requested that I try to incorporate their robot icon, as well as various clothing styles from the '70s, '80s, and '90s. From there, it was only a short jump to put the robots in dance poses.
BOTTLES FOR POVERTY
I was approached by the President of Bottles For Poverty, Robel Haile, about designing a t-shirt that could be sold as a way to raise funds to build a school in Gondar in Ethiopia. I tried to incorporate desired elements into the design, including, most importantly, a child reading by lantern light. After being approved by the Officers of Bottles For Poverty, this design was printed in Fall 2013.
NATIONAL PUBLIC RADIO
This was a just-for-fun submission to a contest to create a t-shirt design for NPR. I did not win, but it was still a creative challenge to develop a concept that encompassed the entirety of what NPR does.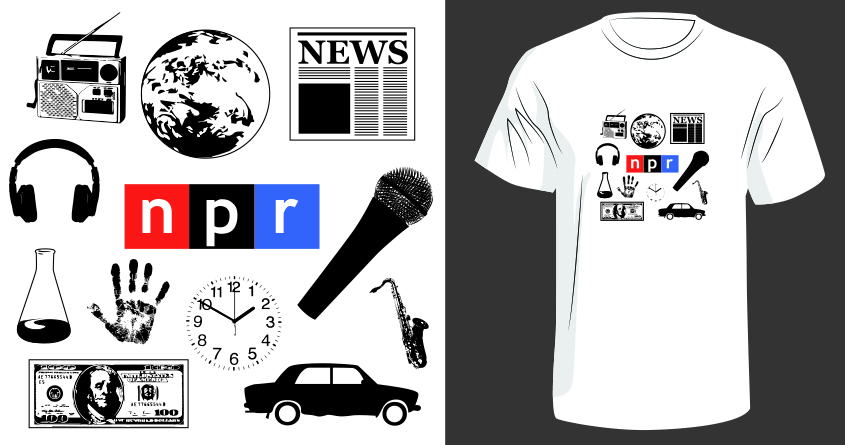 TRUCKEE AYSO & SOCCER FEST
The following images represent the oldest projects (by far) in my portfolio, and I include them to show my long-term commitment to excellence in design.
Both designs were developed the old fashioned way: by hand. I didn't have any computer programs to do quick mockups or revisions at the time, only pencil and paper, so even the text is my own creation. I designed the original, green 'Bicycle Kick' Soccer Fest shirt for the event that took place in the fall of 2006. The shirt was such a success that the following year, they simply re-used the design, changing only the date and color (to blue). I designed the red 'Slide Tackle' AYSO shirt for the 2009 soccer season—the date is hidden in the lightning behind the player, because, honestly, I have never enjoyed featuring a date on my shirts.
I am proud to include both shirts in my wardrobe and continue to wear them regularly. Hence the visable wear on the 2006 Soccer Fest shirt!